In Memory
Craig Mulford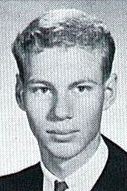 CRAIG "MULF" MULFORD Died in Vietnam in March 1966.
March 25, 1946 - March 5, 1966
| | | | | | |
| --- | --- | --- | --- | --- | --- |
| Birth | 25MAR46 | Rank | PFC | Date of Death | 05MAR66 |
| P. of birth | | Service | Marines | Place | Quang Ngai, S. Vietnam |
| town of rec. | Seattle | Unit | 3rd Mar Div, I Co, 3rd Bn, 1st Mar | Death Code | Hostile Died; Ground Casualty; Gun Small Arms Fire |
| Hometown | | service # | 2148155 | Panel | 05EAST - 121 |
| married | Single | Medals | | MIA - | |
| Comment | | Tour Date | | Cemetery | Willamette National Cem., Portland OR |

Highline High School, Seattle WA, 1964
Researcher comment - Death of 5 Washington State men
The plan - Operation Utah called for using one battalion of ARVN paratroopers and one battalion of Marines to drive the 21st NVA Regiment out of the area northwest of Quang Ngai City. The ARVN's would be brought in first to secure the Landing Zone and then would be reinforced by the 7th Marines. Together they would move up Highway 527 taking out the enemy as they found them. It was easy to say and very difficult to do as the enemy, 2 full battalions, was well entrenched.
4 Mar 66, the Landing Zone, rice paddies surrounded by Hills 97, 85, and 50 was bombed and strafed and eventually naphamed. The helicopters brought the troops in and suffered losses...
Charles ANDERSON was a member of Mike Company and this company was sent out to help the ARVN secure Hill 50. ( Mike Company gives an indepth overview of this process.)
5 Mar 66, Mike Company bumped into a well- dug force NVA at Chau Ngai, east of Hill 50. Lima and India Company were also sent to Hill 50 and found no ARVN's just North Vietnamese... Unable to take the Hill they withdraw and join up with a battered Mike Company...
Michael W. Hastriter, a Navy Corpsman assigned to India Company, wrote an intense tribute for Steven CHURCH who died from 3 shots to his chest while firing beside him Hastriter said "Our mission was to relieve Mike Company (our sister company in our battalion) who had sustained many casualties before we arrived. As we worked our way to the floor of the valley, we could hear explosions and automatic weapons fire across the valley". He tells about the helicopters being shot up and Steven Church receiving a hit inside the helicopter (a second purple heart injury). He tells about treating and removing the wounded...
Another member of India Company was Alan MULFORD who died from small arms fire that day.
On 5 Mar 1966, the men of 3rd Battalion, 1st Marines lost 32 of their comrades and 90 were wounded during this first day of battle. Including 3 Washington State Marines.
Also on 5 Mar 1966, Roy HARBISON, fighting with the Army 1st Inf Div. died from small arms fire and Danny NETH, crew member, was shot down in a Huey helicopter during a courageous rescue attempt where both of the pilots were awarded (posthumously) the second-highest award - DSC.
On 6 Mar 1966, after intense bombing and fighting Hill 50 was taken... with an additonal loss of 65 Marines and 188 wounded.
Sources... Bruce Swander; (See Steven Church Remembrance).Mike Company ; and see Steven Church Remembrance.
Seattle Times - March 10, 1966
Seattle Man Killed in S.Viet-Nam
Alan Craig Mulford, 19, of Seattle, a Marine Corps private, was killed in action in Viet-Nam Saturday, the Defense Department said today.
He was the son of Mr. and Mrs. Kenneth W. Mulford.
Mulford, who had attended Highline High School, had been in Viet-Nam only six weeks. He joined the corps in April, 1965.
He was born in the Virgin Islands. He had been a Seattle-area resident ten years.
Surviving, in addition to his parents, are his grandparents, the Rev. and Mrs. L.E. Craig of Ingram, Texas.
The names of 51 dead were announced today. Forty-three were marines, refleting heavy marine casualties last week-end north of Guang Ngai near the central coast of Viet-Nam.