In Memory
Jain Milliken (Whaley)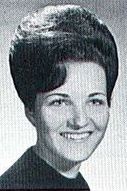 July 5, 1946 - January 19, 1979
Mason, WA - Jain Whaley, 32, Mason, died Friday in Central Washingotn Hospital, Wenatchee, following an extended illness.
She was born Jain Milliken on July 5, 1946, at Seattle, and attedned schools there. She graduated in 1964 from Highline High School, Burien.
She attended Central Washington State College, graduating in 1970 with a degree in education.
On July 5, 1969, she married Rick Whaley. They moved to Manson in 1971 where Mrs. Whaley taught home economics at Manson High School.
Mrs Whaley was a member of Alpha Guild.
Surviving are her husband, Rick, and a daughter, Carman, both at home; her father, Robert Millliken, Bellevue; her mother, Etta Rowley, Marysville; a brother, Robert Milliken, Costa Mesa, Calif.; and a sister Melody Moses, Marysville.