In Memory
Fred McIlroy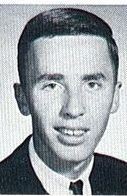 | | | |
| --- | --- | --- |
| Feb 06, 1946 Apr 12, 2006 | | |
The following was posted on the web by Fred's son, also Fred, at the time of his death. The link to his journal is: http://spaseneyeh.livejournal.com/
Apr. 12th, 2006 06:10 pm Thank You
My father, Fred W. McIlroy, III passed away this morning at 2:58 AM. I had a meeting with his doctor yesterday morning and she seemed to think that he had a few weeks left yet. This was not to be. He seemed to grow more and more weak over the course of the day and finally in the late evening, the nurse on duty told us that she didn't think he would make it through the night. At that point, my mother, my aunt Marianne, and myself decided that we would remain with him through the night. Heidi joined us shortly after midnight along with our pastor. We spent the evening in prayer and talking to him even though he couldn't answer or see us. It was peaceful and he felt no pain so there was no need for pain medication. The nurses said that he was one of the most peaceful people that they had ever seen. He left this world knowing that he is loved and that he is a wonderful man. God has blessed him and now will keep him safe now and forever. I thank all of you for your prayers in this horrible time. We now know that God's will has been done and that it was all for the best. God bless you and God bless us all.

FRED
Apr. 11th, 2006 02:23 pm

I had a meeting today with the doctor who is in charge of dad's cancer care. Firstly, she now feels that the bladder infection was probably a mistaken diagnosis. Some of the tests have come back negative and we'll know for sure by tomorrow. So at least that isn't there. However, she confirmed that the cancer has indeed gotten worse and that his liver functions are declining. She says that the end is not quite upon us yet and that things could go on for several weeks. At this point, we do not know what kind of care he'll need out of the hospital. We are now to the point where we may need to consider going to a hospice. More research to be done on that.
Apr. 10th, 2006 06:03 pm Update

This morning, my father was admitted once again to Highline Hospital. He has been diagnosed with extreme dehydration and a suspected infection of the bladder. Blood tests have led us to believe that his liver is failing. He is awake, feels no pain, and is aware of his surroundings but is very weak. Barring any sudden reversal of condition his doctors feel that he is near the end of his journey. I ask that all of you pray for him in this time. Pray that God's will be done in whatever form that may be. Pray also that his faith and ours may only be strengthened by this time of trial. We mus always remember that God is with us and that he will be our guide. "Lead us not into temptation, but deliver us from evil."