In Memory
Mike McCarthy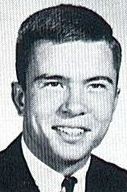 August 5, 1946 - August 27, 1970
Seattle Times - August 29, 1970
Seattle Navy Pilot in plane crash
Lt (j.g.) Michael K McCarthy, 24, of Seattle was lost at sea when his light jet attack aircraft crashed off the California Coast Thursday night.
McCarthy, son of Mr and Mrs. Timothy D. McCarthy was flying an A-7B Corsair II when it crashed after it was launched from the aircraft carrier Hancock, west of San Francisco, the Navy said.
It was believed there was an explosion. A search turned up nothing. McCarthy, a 1968 Washington State University graduate, entered active duty two years ago. He was stationed at the Lemoor Naval Air Station. His wife, Andres, and their month-old daughter, Erin, survive.
Also surviving are a brother, Sean, at home; a sister, Mrs. Don (Shannon) Fullenwider, Los Angeles; another brother Terrance McCarthy, Renton and his maternal grandfather, Ray C. Cissna, Seattle.