In Memory
Danny Bomeke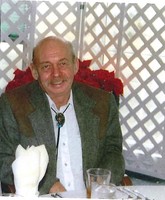 Dan Bomeke, June 12, 1946~Dec. 13, 2014
A longtime friend and resident of LaBarge, WY Dan Bomeke passed away on Saturday, December 13, 2014, in Ogden, Utah.
Dan was born on June 12, 1946, in Portland, Oregon. When he was 9, he moved with his parents to Seattle, Washington. Dan received his education in Seattle.
While attending high school, he met and married his high school sweetheart, Celia Bencini. They were married on Oct. 22, 1965. For 49 years, love never failed.
Dan enjoyed hunting and tinkering with his John Deere tractor, classic cars and trucks. His last project was his beautiful 1965 Chevy pick-up which won several car show awards.
Dan passed away from cancer.